It's just a little bit of fun!
There is no raw meat and no baking involved. It's a fairly simple recipe and I'm sure you would have tried something similar at one or other stage of your life.
The only difference is the novel serving suggestion and then the name of course.
A few years ago my boss brought chocolate salami back from Portugal. I thought it was wonderful, very clever and something I had not seen before.
The flavour and ingredients reminded me of a treat that my mum used to make for me when I was a child. So I thought why not use that old recipe and give it a gently face-lift.
A year ago I bought a old fashioned meat-safe that Ross's dad had carefully restored for us, I use this meat-safe to display my novel chocolaty salami in, it makes people smile!
It's a brilliant talking point after dinner, when you bring out the chopping board and carving knife and let the diners help themselves to a slice of chocolate salami with their coffees.
16th November 2009
The chocolate salami idea and recipe was a great hit with a lot of regular British Larder readers. All credit for this video goes to Helene now blogging from her kitchen at http://ThermomixBimby.com based in Canada.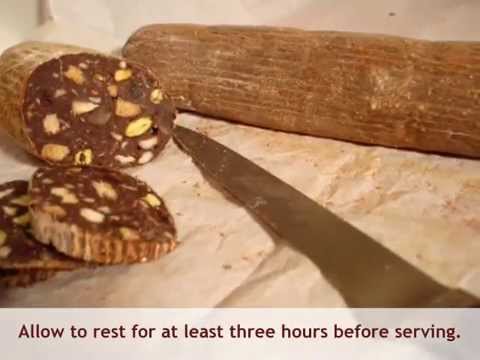 24 Comments Print Recipe Print Recipe with Photo Email this Recipe
---